Click here to view this email in a web browser

Dear contact.firstname,

The 'Healthy Workers Healthy Futures' initiative, funded through SA Health's Men's Health Strategy, assists businesses in undertaking best practice approaches to make workplaces healthier and happier.

If you are a South Australian Business within the manufacturing sector, Ai Group can offer your business a FREE consulting service. This includes assisting with key steps of the health promotion process to encourage best practice health outcomes.
The power of collaboration: check out the latest video case study
Wingfield business Intercast & Forge is Australia's largest cast iron foundry, employing 230 workers. It has welcomed the opportunity to address a wide range of Wellbeing topics as part of the Healthy Worker's Healthy Futures initiative, and it is already starting to pay dividends – health dividends! Check out their story:
Addressing the Health Statistics head on: A quick word from Brice Metals General Manager
In the Australian manufacturing sector alone, two thirds of workers are reported to be either obese or overweight, and more than 33% perform little to no exercise. Improvement in health is not only beneficial for the individual, but can also result in strong business outcomes such as increased productivity, decreased absenteeism and reduced injury rates.*

Brice Metals has taken the leap towards greater health with the implementation of its Health and Wellbeing program – in particular, its own 'Biggest Loser Challenge'. The program is simple: increase intake of fruit and vegetables, reduce intake of processed sugar and conduct more exercise. Workers that sign up are provided with ongoing support throughout the duration of the program.

Brice Metals General manager Dave Lander states: "The workplace setting is an ideal platform to promote good health and wellbeing. The program has created a real buzz around the factory, and we are on track for some great results – with one worker's weight already down by 7.5kg. We plan on going a step further in 2017, addressing some key topics including smoking, alcohol consumption and mental health."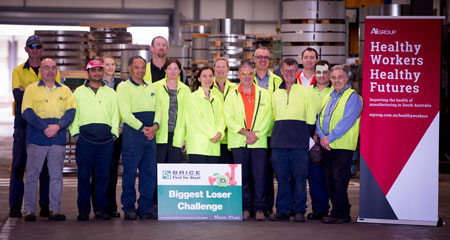 "The program has created a real buzz around the factory, and we are on track for some great results – with one worker's weight already down by 7.5kg" Brice Metals General Manager, Dave Lander
Tossing up some ideas for 2017?
Good planning is good practice - let Ai Group assist you in setting up a Wellbeing plan that suits your workplace. The advantages of a wellbeing program are many: increased productivity, increased worker morale, decreased absenteeism, and a possible reduction in musculoskeletal injury.**

Book an appointment with your SA Healthy Worker Adviser
Quick Links


 
View the latest wellbeing stats and understand how Ai Group can assist your business.


Need some brochures and pamphlets for your toolbox meetings? Access our website: Healthy Workers Ai Group SA

Interested in sharing your good news wellbeing stories? Send us an email

Promote the online health check to your workforce click here
A message from SA's Healthy Worker Adviser
Thank you to businesses that have participated in the Healthy Workers Healthy Futures Program in 2016.

Just a quick reminder that HWHF is a FREE program available to manufacturing businesses in SA. This support is available until June 2018.
Improving health for your workforce may be as simple as visiting our website and downloading our resources: Healthy Workers Ai Group SA

Alternatively, contact us today and we can set up a time to discuss the program further.
 

All the best in health,

Peter peter.hryhorec@aigroup.com.au
A message from SA's State Safety & Workers' Compensation Manager
As part of your membership you may be entitled to a number of our free member services offerings.

This may include reviewing key elements of your Safety Management System, or conducting a critical risk review to assist your business in this challenging environment.
If you have any further questions about this or any of our online events, please email
info@aigroup.com.au
or dial 1300 55 66 77.  
*Australian Bureau of Statistics 2013, data generated June 2015 in Table builder using Australian Health Survey; updated results 2011-2012, cat no. 4364.0.55.003 **Workplace Health Association Australia – ROI white paper – Employee Health
This email has been sent to you as a member of Ai Group and forms part of our communications services to you. Go to the
Ai Group website
to receive other information services or opt out.
Unsubscribe
.